It has been excellent to see all of our scholarship holders at ICTD2010.
Below are the official photographs of all those who received scholarships enabling them to attend.






Click on the images above for larger pictures!
Through the generosity of our sponsors, we were able to have two calls for scholarship applications. The deadline for the first round of scholarship applications was 15th August 2010 and for the second round of applications it was 15th October 2010. All those who  submitted applications in the first round were automatically reconsidered in the second round.
We received 323 applications in total and as a result of the generous contributions of our sponsors, we were able to make more than 100 offers of scholarships that included various combinations of registration fee waivers, flights and accommodation. Most recipients were from people living in the poorer countries of the world. The distribution of scholarship offers in the first round is shown in the diagram below: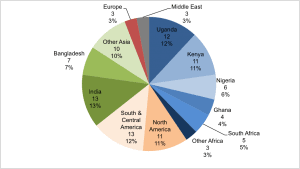 Eligible candidates for scholarships had to fulfill at least one of the following criteria:
Have had a paper accepted, or be a speaker in an accepted session (including posters, workshops and demos) at the conference.
Be from a country ranked below 100th on the latest Human Development Index (as at 1st June 2010)
Be studying for a postgraduate degree
Be on a low income (if applying on these grounds, the most recent payslip had to be attached as proof of income)
Applications that did not fulfill at least one of these requirements were not considered.
All application for scholarships have been treated in strict confidence.  Decisions of the scholarships panel are final, and no further correspondence will be entered into once these decisions have been made.  It is not possible for the conference organisers to make additional booking arrangements for recipients of scholarships, nor to enter into general correspondence concerning any arrangements over and beyond those specified in the scholarship offer letters.  All recipients of scholarships must give copies of their boarding pass, ticket and passport (named page and entry stamp page) to the conference organisers on arrival.